Winter Olympics 2022 day 10: curling, snowboard and freestyle skiing – live!
"Athlete of the Games so far?" asks Kurt Perleberg. Putting aside the obvious answer, we've seen moments of brilliance from Nathan Chen, Nils van der Poel and Eileen Gu, but my personal shout would be Suzanne Schulting.
The Dutch short track skater has won two golds and a silver in Beijing, and set a new world record too. The Netherlands' relay gold and their emotional celebrations – after teammate Lara van Ruijven died in 2020 – were a Games highlight too.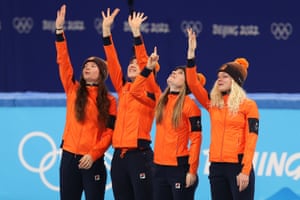 There's a break in the action in Beijing for the next 90 minutes – so plenty of time to catch up on a busy day of skating, sliding and skiing so far.
Let's start with ice dancing, and tales of Valentine's Day romance and redemption from Martin Belam: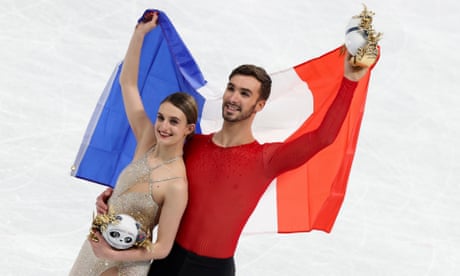 Curling: Denmark have beaten Norway 6-5 amid extra-end drama to earn their first win of the group stage. Here are the latest men's standings:
1. Sweden (6-0)
2. Great Britain (5-1)
3. Canada (4-2)
=4. USA, Switzerland, ROC (3-3)
=7. Norway, China (2-4)
=9. Italy, Denmark (1-5)
The top four advance to the semi-finals, so Team GB are well placed – but their last three games are against Sweden, Canada and ROC.FacebookTwitter
Monday's biggest story from Beijing is undoubtedly the news that Kamila Valieva will be able to compete in the women's individual figure skating event.
The World Anti-Doping Agency (Wada) have issued a statement responding to the court of arbitration for sport's decision, saying it is "disappointed by today's ruling."
"It appears that the Cas panel decided not to apply the terms of the Code, which does not allow for specific exceptions to be made in relation to mandatory provisional suspensions for 'protected persons', including minors."
Wada also appears to lay some of the blame for the delay in Valieva's positive test being confirmed with Rusada, the Russian anti-doping agency: "According to information received by Wada, the sample in this case was not flagged by Rusada as being a priority sample when it was received by the anti-doping laboratory in Stockholm".
Sweden have beaten ROC 7-5, while Denmark and Norway are locked in an extra end after drawing 5-5. And if you think I'm slightly overdoing it on the curling, it's the only live event happening at the moment – but we'll have a run-down of all the day 10 action so far, and what's coming up, very soon.
Updated at 8.54am GMTFacebookTwitter
Curling: Bruce Mouat's crew have a stone almost on the button, while Switzerland have largely left their efforts short, keeping the target area clear. One stone each left to go …
With their last attempt, the Swiss team nestle a stone in front and give Mouat something to think about. He clears both stones with his final effort, and Team GB pick up the point they need to win! GB 6-5 Switzerland.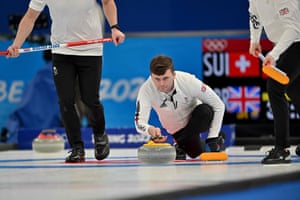 Updated at 8.58am GMTFacebookTwitter
So, the only live sport currently going on is curling, and Switzerland have struck back against Team GB in the ninth end. With the final stone, they try a complicated cannon shot for three points, but end up taking two.
It's 5-5 going into the 10th and final end, where Britain have the hammer – the final stone. Elsewhere, Canada have beaten Italy 7-3, Sweden lead ROC 6-5 and Denmark lead Norway 5-4.FacebookTwitter
Here are the 12 aerials finalists, who will return to compete for gold at 11am (GMT) – in two and a half hours. The last name on the list, Anastasiya Andryianava of Belarus, did not take a second jump, so it remains to be seen if she will be able to take part.
Laura Peel (Aus)
Ashley Caldwell (USA)
Xu Mengtao (China)
Danielle Scott (Aus)
Marion Thenault (Canada)
Hanna Huskova (Belarus)
Akmarzhan Kalmurzayeva (Kaz)
Megan Nick (USA)
Kaila Kuhn (USA)
Kong Fanyu (China)
Eseniia Pantiukhova (ROC)
Anastasiya Andryianava (Blr)